Are You Searching for Benching Systems or Benching Cubicles for Your Tampa Office?
At Office Furniture 911, we can help you select the best benching cubicles and workstations to match your office space layout, specific styling, employee functionality as well as your furniture budget.
A symbol of modern office furniture and 'forward-thinking' culture, benching cubicles promote a more open working environment. They offer Tampa Bay area companies an airy, open-plan design that is contemporary and appealing. Workstations can be designed and configured in many different ways to foster teamwork, communication and collaboration.
When looking to purchase open benching system furniture brand new, Office Furniture 911 can help you with the process of choosing the right brands, styles and configurations. We work with most of the top office furniture manufacturers, including Global, Mayline, Open Plan Systems and many others.
These workstations can incorporate many different materials such as glass, metal, whiteboards, a wide selection of laminate and fabrics to meet your wants and requirements. Let us help you design and build your new open office space today!
Pre-Owned
We sell used benching systems and workstations — often at prices 50% – 75% lower than new pricing!
We have an extensive and ever-changing inventory of office cubes and workstations from top brand name manufacturers — perfect for both smaller office spaces and for larger operations like call centers and customer service centers. Whether you call them modular furniture, systems furniture, or something else, we can help you make the right choice for your workplace.
Buy used from Herman Miller, Haworth, Teknion and more.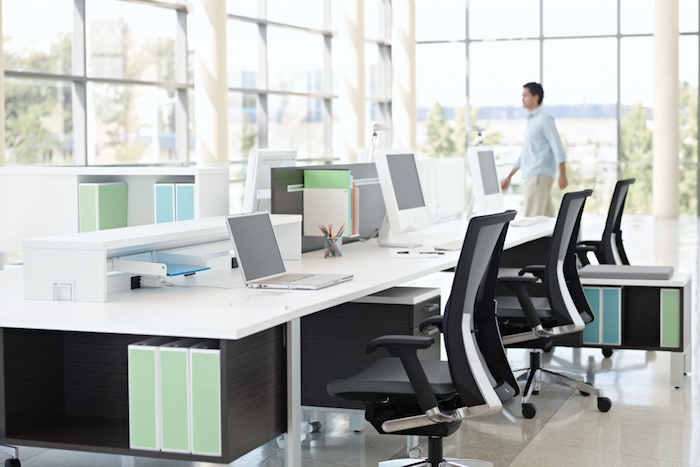 Benefits of Buying Office Benching Systems for Your Company
The right office cubicle systems, when designed to fit your office layout, can offer a real benefit for you and your employees.
Cubicles without walls, panels or partitions (or with smaller partitions) allow for greater collaboration between employees and helps to ensure everyone is working 'as a team' and not separated by closed spaces.
Delivery & Installation of Your Benching Cubicles, Tampa and Beyond
Office Furniture 911 is conveniently located in on Adamo Drive between downtown Tampa and Brandon. Our showroom location allows us to service clients throughout the entire Tampa Bay area as well as Orlando, St. Petersburg / Clearwater and Sarasota / Bradenton.
After selecting your office cubicles or workstations, our team of skilled professionals will schedule the delivery and installation of your furniture at a time that is convenient for you.
We Offer Great Discounts on Pre-Owned Benching Systems
Even with a smaller budget, your company can get great deals on used office cubicles — generally with a savings of 50% – 75% (or more) when compared to buying new furniture.
When it comes to benching workstations, buying pre-owned inventory is the perfect way to save money without sacrificing quality, durability or style. Our goal is to only offer the best reconditioned and refurbished modular designs available in central Florida.
Why Should You Consider Used Office Benching Cubicles?
Price – generally 50% – 75% less than buying new furniture
Customized – choose your quantity, dimensions and sizes to match your specific needs and requirements.
Quality – we offer a wide selection of 'like-new' refurbished and reconditioned furniture
Availability – shop locally in Tampa, with delivery and installation throughout Florida and nationwide
Selection – choose from name brand, high-quality furniture in many different styles, colors and fabric combinations
*We offer Steelcase, Herman Miller, Knoll, Haworth, HON, Teknion, Global and many other manufacturers.
If you are looking for a one-stop used office furniture supplier, contact Office Furniture 911 today at 813-443-4493.
Image credits: images above are from Global Furniture Group.