Looking to Buy Office Cubicles in Tampa Bay? Here's what you need to know.
Whether you're buying 5 new cubicles for your office space or 50, the search can take time and effort. **Note: we sell new and pre-owned cubicles and workstations in Tampa, across Florida and even outside of Florida for customers looking for specific configurations, brands or prices.
There are a lot of decisions to make. Are you shopping for new or used office cubicles? What dimensions, size, color and furniture brand do you want or require? Will the cubicles need to match your existing cubicles? Will you need other services as well — space planning, delivery and installation or liquidation of older furniture?
What you'll learn in this office cube guide
Office Cubicles: Common Questions and FAQs
5 Easy Steps to Buying Cubicles
What to Consider When Buying Office Cubicles
Benefits of Used Office Cubicles vs. New Cubicles
5 Ways to Save Money When Buying Office Cubicles
What NOT to Forget When Buying Workstations
A Visual Map of Cubicles Components
Additional Reading About Office Cubicle Tips, History, Organization and Accessories
Bypass our Guide to Office Cubes: Get started now by viewing our cubicle inventory — click here.
*Our inventory changes weekly as we receive new inventory and move out current inventory. If you don't see the exact office furniture brands, models or design options you're seeking, please contact our office. We often have more furniture than our website shows. You're also able to schedule a visit to our Tampa location by calling 813-443-4493.
Click below for more of our office cubicle guides
What to Consider When Buying Office Cubicles
What do cubicles cost?

What's the best brand of office cubicles?
When buying used cubicles, is the selection limited?
Do office furniture stores handle delivery and installs of my cubicles too?
What's the most common cubicle size?
Do you sell panels, walls and dividers too?
Cubicles, workstations and modular furniture — all the same thing?

What do cubicles cost?
Like anything else, the cost of office cubicles can vary dramatically. Used cubicles can be found for as low as $300 – $500 and new cubicles can range from $2,500 to $10,000 per cubicle depending on the brand, dimensions and other factors.
This is where your budget really comes in to play…and it's important to understand your budget and your employee's needs prior to shopping for cubicles. Importantly too, sharing your budget and your needs and wants helps your office furniture store representative to find the best match — the best quality cubicle at the most budget friendly price.
What's the best brand of office cubicles?
Determining which brand or brand's line is best is really dependent on each company's individual needs. New cubicles from Herman Miller are probably better than refurbished cubicles from Allsteel. However, the condition of the cubicles, their price and their color / style are all important factors.
What's 'the best brand' is really subjective. Haworth, HON, Global, Steelcase, Knoll and many other office furniture brands make good quality cubicles. In fact, there are dozens of well known and not well known manufacturers of office workstations.
When buying used cubicles, is the selection limited?
Cubicle selection and inventory can be limited when you're shopping for used cubicles specifically. Most used office furniture stores will have an ever-changing inventory. These stores will purchase liquidated office cubicles, refurbish them and then look to move them quickly.
For example, they may purchase 25 HON Accelerate workstations. A company in St. Pete may purchase 15 of them and then there are 10 remaining workstations. Another company in Lakeland may want 8 and then there are 2 remaining. You get the idea! The selection can be limited to begin with and then dwindle from there.
It's best to reach out to an office furniture store and let them know what types of cubicles you're interested in and the number of cubicles you require. From there, they can actively seek out cubicle inventory for you.
With new cubicles, limited selection does not come into play. However, lead times are important. Buying brand new cubicles requires advance planning. From initial order to final delivery may take a few weeks or even longer.
Do office furniture stores handle delivery and installs of my cubicles too?
Yes, most office furniture stores that are selling cubicles will offer delivery and installation as an additional service. Sometimes this service comes at an additional price, so be sure to inquire about delivery and install prices. Also, some companies will manage installation in-house (i.e. their own guys will do it) and some will outsource the cubicle installation work to companies who specialize in workstation moving, install and set up.
What's the most common cubicle size?
Again, this is pretty specific to each individual company and their needs. Most cubicles are 5 x 5 up to 8 x 10.
A call center near the Tampa Airport might have smaller cubicles because they have 250 employees working around the clock managing customer services calls. They just need less space per employee, so a 5 x 5 cubicle dimension makes more sense for them (and in fact, the dimension size might even be smaller)! A downtown Tampa law firm might have much larger workstations to accommodate the specific needs of their attorneys, paralegals and other office staff.
What about the other parts of the cubicles?
Standard office cubicles give employees a sense of 'private space' — and this is done in a variety of ways using walls, dividers and panels — all of which can be of varying heights — lower heights allow for better lighting and provide a more 'open feel' community oriented office environment — while higher walled cubicles offer more privacy and help to reduce noise and visual distractions.
Depending on the brand of furniture and the style, the pieces that separate each cubicles will be different. Your office furniture store will make sure they're providing you the right walls, dividers and panels that match your needs — and match your cubicle selection.
Are cubicles, workstations and modular furniture the same thing?
Essentially, yes. Different people call them different names, but essentially they all offer a variety of configurations that include a desk and walls…and then potentially other connectable pieces (like shelving, filing cabinets and more. A modular unit is intended to be set up by itself or easily configured with other pieces.

5 Easy Steps to Buying Cubicles for your Workspace
Describe your office space
Tell us what your employees need
Let us know about your budget
Choose the look you want
Tell us about when you need your cubicles
Describe your office space
If you're able to get an architectural drawing of your office space, it can be quite helpful. Otherwise, you'll need to carefully measure the space that you have — and want to fill — with new cubicles.
If you're unsure of how to do this — or just want the input of professionals — your office furniture representative should be able to do this for you. This is called space planning and is a service most cubicle suppliers in Tampa Bay offer.
Remember, there are other elements to consider in addition to just the cubicle dimensions. For example, is there room for outlet plugs? Is there room needed between other cubicles for walls, dividers or storage? How much rooms do you need for a desk chair or other items like filing cabinets or trashcans? Is the cubicle installed against a wall or will you have cubicle 'free floating' in the middle of a large room?
What do your employees need in a cubicle setup?
It's important to know how you and your employees will be utilizing the workstations. Will they need walls on the cubicles to 'close' off their space and reduce 'workplace noise' and other distractions? Will they require storage within their cubes? How will you best set up workstations so employees can move freely around the office without being trapped in a maze? The more we know about how they'll be used, the more we can help.
What's your budget for office cubicles
It's true, but budgets do impact your office cube choices. The more we know about your budget, the better we can help you get the best quality cubicles at the price that's right for your company. It's true — good quality cubicles can be had at affordable prices.
Choosing the right 'look'
When you're choosing cubicles, you'll want to consider how the cubicles will look in your office space. We'll help you select color styles, brands and the appropriate dimensions that best fit the style you're going for — and that match your budget.
When do you need delivery and installation of your cubicles?
Once you've chosen you new cubicles, you're probably anxious to get them sent to your office and assembled. Delivery and installation of your workstations is very important.
We'll work within your schedule to arrange delivery, setup and assembly. We understand deadlines and not impeding your workday. Let's schedule a time that works best for you!

What to Consider When Buying Office Cubicles
So you're in the market for new cubicles for your employees — that's great!
We've covered a lot already in this cubicle buying guide, but there are a lot of options and a lot to consider, so it's best to take some time to really think through your cubicle and workstation options and envision how you want your office space to work. You want a work space that's efficient and comfortable and nice to look at and considers the following:
Functionality over form
Ergonomics and comfort
Getting furniture that can multitask
Will you need storage?
Considering lighting options
Functionality over form
This means you want furniture that 'works better' than it looks. The 'look & feel' is secondary to how it's used.
Remember, you're not buying office furniture to stage a movie scene. You're buying furniture so you have a place to sit and work on 'real work' — like Excel spreadsheets, expense reports, marketing budgets and employee reviews.
That being said, you do want workstations and office chairs that are comfortable. Yet, you need desks that can handle a stack of reports. You want desk drawers that can open and shut a thousand times without breaking.
Yes. You want pretty furniture too — and thankfully these days most office furniture supply dealers in Tampa can get you form and function in one nice package. Think a Herman Miller chair that's built for James Bond styling and CEO hours.
Again…looks may be more important to a growing Tampa ad agency than for a Bradenton non-profit with tighter budgets who is more concerned about long term use!
Ergonomics and comfort
If you're sitting or standing somewhere — anywhere — for too long, your body won't respond in a nice way.
Your goal is comfort and ergonomic fit. You want to find office cubicles for the tasks you're working on. Maybe that means L-shaped cubicles installed differently for left-handed employees vs. right-handed employees. Maybe that means adjusting the keyboard tray on the cubicle or installing shelving on the cubicle at comfortable heights.
Additionally, consider buying a height-adjustable chair if more than one person is going to be using the workstations (like in a sales center or call center).
Smart decisions now — when you're buying office furniture — helps avoid the aches and pains from your neck and joints that might happen later.
Get furniture that can multitask
Buying furniture that can serve more than one purpose can be a smart move.
You see examples of this all of the time —  like a filing cabinet that you can put a printer on top of. Or coffee tables that work as lunch tables and small conference tables.
Most work places — if people have been around awhile — showcase some very inventive uses for office furniture.
The more functionality a piece of furniture has — the less furniture you need to buy — and that can save you money!
Will you need storage?
It's odd, but in our digital world, we all seem to still collect reams of papers, folders, documents and more.
So where do you put it all? If you're trying to minimize your office furniture footprint in Tampa, you might leave out filing systems, cabinets and shelving, but you'd likely be making a mistake.
Buying filing cabinets and other storage units will help keep your work place organized. Remember too — it's not just paper that needs to be stored — but often, samples, supplies, accessories and more.
Generally when buying office cubicles, you'll need to assess past use for each employee (in terms of their storage needs) and/or make plans for future uses of storing the items that seem to be found in every office.
Shed some light on things…
This is a need that many employers either don't think about or just assume that overhead lighting will be sufficient for. But as you likely know, different people enjoy different levels of lighting while working.
You'll need to determine the appropriate lighting for your specific needs. We've found that not all Tampa office furniture stores offer lighting options — and if they do — they're often not stylish or interesting. You may need to find another source for lighting projects.
Remember – indirect lighting increases the glare on a computer monitor. Harsh overhead lighting can be draining.
Consider lamps and under-shelf lighting for cubicles and workstations. They can also make for cozier, more friendly and more inviting open areas like waiting rooms, lobbies and small conference rooms too.

Benefits of Used Office Cubicles vs. New Cubicles
One of the ways to determine the right office cubicles that will work in your space is through evaluating their advantages and disadvantages. Here are some of the most important points to consider between these three options:
New office cubicles
Refurbished office cubicles
Used office cubicles
New office cubicles
Benefits: New office workstations are nice, clean and can afford the look you're going for in your office. Too, they can be customized to fit your employees exact needs.
Disadvantages: Naturally, new cubicles can come at a much higher cost than both refurbished and used cubicles. Also, the ordering and delivery time on cubicles can take weeks or months. Business owners need to take this time frame into account.
Refurbished office cubicles
Benefits: Refurbished (sometimes also called remanufactured) office cubicles are cubicles that are pre-owned by another company — but have been overhauled to 'look new again' — by refinishing old looking surfaces, repairing damaged parts and potentially mixing in new pieces to replace old or worn components. This means you can get very nice office furniture (almost new furniture) at really affordable prices. These type of cubicles offer a range of customization as well, making them similar to new cubicles.
Disadvantages: These cubicles, while less expensive than new cubicles, are still more expensive than used cubicles. Like new cubicles, it can take time to refurbish cubicles to a buyer's exact specifications — and this can take time.
Used office cubicles
Benefits: Used cubicles are just that, pre-owned cubicles that are sold in an 'as-is condition' or with a light amount of cleaning and repair to make them serviceable. They are often quite cheaper than both new and refurbished office cubicles – generally 50% – 75% less than the cost of new cubicles. For many businesses, especially those with smaller budgets, used office workstations can be just fine.
*Used cubicles (or liquidated cubicles) are found when companies move, downsize, go bankrupt, undergo office space remodels or just simply 'grow out' of their old furniture. Furniture liquidation companies (like ours) will usually buy cubicles in bulk, clean them up, and then re-sell them at affordable prices for companies throughout Tampa Bay.
Disadvantages: One of the main disadvantages of buying used cubicles is that they may in fact 'look used' — but that's a determination that has to be made by companies who can't — or don't want — to purchase new furniture. That being said, most reputable office furniture stores here in Tampa will make every effort to provide good quality used office cubicles that can last for years — and look nice too.
5 Ways to Save Money When Buying Office Cubicles
Plan ahead
Shop around
Consider shipping, delivery or installation costs
Choosing used office furniture
Visit an office furniture showroom
Plan ahead
Very simply, the earlier you get started with your search, the more options you will have available to you. Realizing that you have 3 new employees starting next Monday (and then realizing you don't have somewhere for them to sit) puts you in a bad situation. You're likely to have less selection to choose from and less negotiating power.
Shop around
Like shopping for a new car, office cubicles can be had at different prices from different office furniture stores. However, if you're looking for a specific cubicle brand (like a HON or Global), a specific color or dimensions — you may be limited. It's important to note here that your contact at the office furniture store can be extremely helpful in getting you the furniture you want — and sometimes this service is more important than just 'a low price' on your furniture.
Consider the additional costs
Storage, deliver, installation and possible removal of older furniture in your space (to make room for the new cubicles) can add more fees to just the cost of the cubicles. Be sure to talk through these costs with your salesperson and understand how that might impact your budget.
Choosing used office furniture over new furniture
This is pretty obvious of course, but it's very important. By planning ahead, shopping around and working closely with your sales rep, you can generally find high quality used cubicles at remarkably low prices. Again, this is where a good sales rep can help.
Visit your local Tampa office furniture stores
Viewing images of cubicles is one thing. Seeing them in person and 'kicking the tires' on them can help you avoid the potential mistake of buying cubicles that looked good as pics on a website or over email, but once purchased…didn't look so good. Visiting your local furniture warehouse allows you to closely examine work surfaces, the cleanliness of wall panels, the open/close ability of drawers and a variety of other factors. This is all super-important when buying refurbished or used workstations and their components.

What OTHER Options Are There  Outside of Traditional Office Cubicles?
Not every office is the same. For some offices, traditional cubes or workstations work just fine. Other work spaces or certain scenarios in your office may require different solutions – which might include:

Open plan seating configurations
Bench systems or bench seating: benching is more of an open concept workstation design (similar to what you might image hip, tech companies to use). These are often shared by two or more employees. Benching systems are usually equipped with low-profile desktop dividers which help to designate a work area while also promoting greater collaboration.
Team desking
Call center cubicles/sales center cubicles: specific to seating a large number of workers or 24/7 rotations of workers.
Partitions, dividers and screens
Panel systems: these are the parts that make up cubicles (generally). They are available in a large assortment of sizes and materials to match the cubicle seating arrangements. These ystems are designed to suit specific needs for offices of a wide range of needs – mainly for privacy and noise reduction – but also just to give the sense of a closed off space.
What NOT to Forget When Buying Office Cubes
It happens so often that…while initially funny…it's really not. We talk to clients who say, "I realized that in addition to buying 10 workstations…that I also needed 10 office chairs, 5 filing cabinets, 10 cubicle wall panels and 10 keyboard trays…can you help!"
Yes we can. In fact, it's one of the reasons why our company is called Office Furniture 911 — calls like this from Tampa area companies are not uncommon and office managers sometimes need a quick turnaround on office furniture and other supplies.
So…when buying cubicles, it's important to remember that you're really servicing the needs of an employee. What office furniture and other supplies will they need to do the tasks that you're expecting them to do?
Outside of the cubicle itself, this might include:
Cubicle walls, panels and dividers and associated parts
Office chairs and floor mats
Filing cabinets and storage
Keyboard trays
Lighting options
Delivery and installation
Liquidation of old furniture to make room for new furniture
Space to run plus, wires and cords for computers, lighting, etc.
Here's a look at just some of the cubicle components you'll see on many office workstations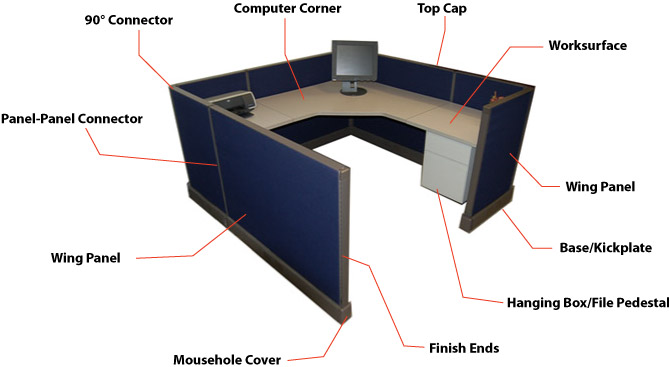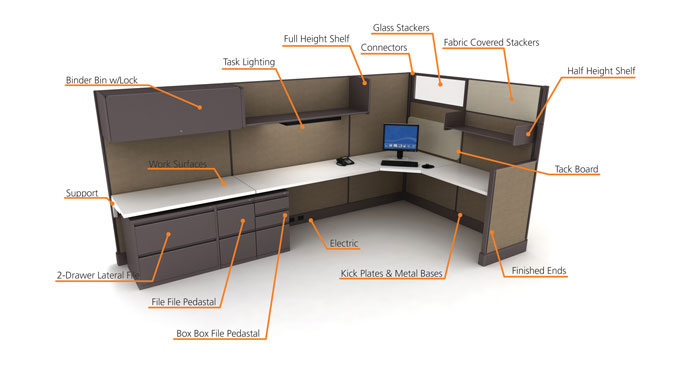 Buying Office Cubes in Tampa, Florida — Now You Know More!
Whether you're a business owner here in Tampa, a facility manager, office supervisor or even the HR person who was tasked with finding office cubicles — you'll realize that the buying cubicles is more detailed than you may have initially imagined.
It's best to find an office furniture company here in Tampa that you're comfortable working with — and who you can feel comfortable asking questions of and getting good advice from. A good salesperson will take their time with you and help you make the best decision that gets you the cubicles you want within your required budget.
Happy shopping!